Five Inspiring Bangladeshi Children 2022
By Sadia Noor Joya
"Children's Day" is observed every year on March 17th in Bangladesh! We are featuring five Bangladeshi youth who made their dreams come true due to their sheer will and have been inspiring other youth in the present day.
Umme Maisun
Maisun is a pre-teen who resides in Chittagong and is renowned for providing top notch English lessons on social media for kids. She came into the spotlight after her English lessons were widely accepted by the audience when aired on the Youtube channel, "Robi 10-Minute School," back in 2019. She has been deemed as the youngest English instructor in Bangladesh and published her first book, Chotoder Spoken English, in the 2021 "Amar Ekushey Book Fair." Her talent is to simplify English lessons in a way that children understand. She lives with her family.
Watch her videos here.
Sayedur Rahman
Sayedur became a prominent face on Facebook in 2020 and specializes mainly in Islamic calligraphy, but this is just one of his exceptional works. Sayedur bagged the prize of 2nd Runner-Up at the "First National Muslim's Cultural Carnival 2021" under the Calligraphy category and claimed his position of 1st Runner-Up at the "Need for Good Art and Craft Event 2021" under the Art category.
His works are a visual delight to the eyes showcasing realistic aspects of arts.

Check out his other works here.
Shamima Sraboni  aka "Samba"
Samba is a teenager, best known for her work, "Panir Niche Dolphin Thake Jongol er Moton." She first grabbed our attention in 2019 and has continued to blow our minds since then. She resides in Dhaka and is an animator and humorist, who creates engaging and quirky cartoons by featuring herself as Samba and her adorable, young nephew, Yamin, paired with her outstanding fruity voice. She recently earned the position of "Best Facebook Content Creator" at the Channel I "Snack Keeper Digital Media Award 2021." Her inspiration is cartoons. She lives with her family.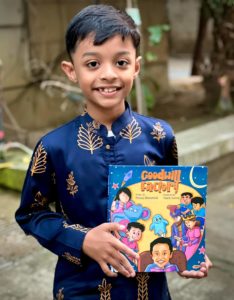 Baap ka Beta – Rituraj
Rituraj is popular on social media for singing melodious songs with his dad, Shuvashish Bhowmick. However, Rituraj recently debuted as a writer, publishing his book, Goodwill Factory, in the "Amar Ekushey Book Fair 2022." His book met with huge success and was widely accepted by young readers. We are equally mesmerized to see him succeed and be productive. He is currently 8 years old and lives with his parents. His inspiration to write a book came from his love of reading. His parents always encouraged him into creative works which is why he is doing so great at a young age.
Follow him here to get updates on his projects.