RABINA KHAN
Rabina Khan is one of the first renowned published Bengali authors in the West. She immigrated to the UK with her parents and younger sibling in 1976. They were the first "brown" people in Kent. In fact, Khan describes her journey in her latest book, a memoir entitled, "My Hair is Pink Under This Veil," which was published in 2021. This book surrounds her journey from experiencing and tackling prejudices as a child into adulthood and throughout her political career.
Moreover, Khan's debut novel, "Ayesha's Rainbow," was published in 2006. "Ayesha's Rainbow" is a fiction book surrounding a British family, including Mrs. Peters, who are reluctant to change, especially when a Bangladeshi family, including seven-year-old Ayesha, moves in next door. When conversation sparks, cultural barriers are crossed.
Rabina Khan's career and aid to her community has earned her the Tower Hamlets Civic Award and the "Hero of the Year" in the European Diversity Awards for her engagement in the East End and wider society. She was even shortlisted for the European Muslim Women of Influence Award.
TAHMIMA ANAM
Tahmima Anam was born in Dhaka, Bangladesh, but is British-Bangladeshi. She tells The Guardian Newspaper that her father worked with the UN, which also led her to Paris, New York and Thailand. Therefore, Anam grew up, traveling, but her parents' experiences of a revolution and eventual Bangladeshi independence, inspired her trilogy: "The Golden Age" (2007), "The Good Muslim" (2011) and "The Bones of Grace" (2016).
In fact, "The Golden Age" was awarded the Commonwealth Writers Prize for Best First Book.  "The Good Muslim" won the 2011 Man Asian Literary Prize. Her latest novel, which was released this year, is called, "The Startup Wife." It is already selected for "Best Book of 2021" by The Observer, Stylist, Cosmopolitan, Red Online and The Daily Mail. "The Startup Wife" is about the fictitious protagonist, Asha, who is almost done with her PhD in computer science, but wishes to run her own lab.
Moreover, Anam has won an O.Henry Award and been named one of Granta's best young British novelists. She has written for various media including The New York Times. She attended Mount Holyoke College and Harvard University. Now, Anam lives in London, UK, where she is on the board of ROLI, a music tech company founded by her husband, Roland O. Lamb.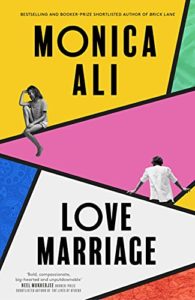 MONICA ALI
Monica Ali was born in 1967 in Dhaka, Bangladesh. Her father was originally from Mymensingh and married her mother, Joyce. In 1971, they immigrated to and settled down in Bolton, a city in Northwest London. There, Ali's father worked as a teacher and her mother worked as a counselor. Ali studied philosophy, politics and economics at Oxford University before working in marketing at a publishing company, where she met her future husband, Simon Torrence. Together, they have a son and daughter, Felix and Shumi. One interesting fact about Ali is that she has taught creative writing at Columbia University in New York! Her books are: "Brick Lane" (2003), "Alentejo Blue" (2006), "In the Kitchen" (2009), "Untold Story" (2011) and "Love Marriage" (2022).
To begin with, "Brick Lane" was adapted into a film and "Love Marriage" is to become a TV series. Furthermore, "Brick Lane" was translated into 26 different languages and was shortlisted for the Man Booker Prize in 2003. Not to mention, Ali was nominated for the George Orwell Prize, the Commonwealth Writers' Prize, the National Book Critics Circle Award and the Los Angeles Times Book Prize. Ali is a Fellow of the Royal Society of Literature and was among Granta's Best of Young British Novelists. In fact, she is a bestselling author and each of her books focuses on a different kind of cultural struggle.