By Bushra Mollick
Honking cars, crowded sidewalks with glaring aunties and fruit-selling uncles, and Bangladeshi grocery stores line the streets of Jackson Heights. Large signs broadcasting "HALAL MEAT" greet marketgoers as small businesses continue to meet the needs of the community during a pandemic. While halal meat is accessible to most Bangladeshi New Yorkers today, this commodity has not always been within a block's reach.
Akm Nuruzzaman opened Akota Grocery & Halal Meat in 1997, after living in the United States for five years. "At the time, there was only one store [in Jackson Heights] with halal meat, Megna Grocery [and Halal Meat]. It was pretty limited. Then there was Mannan," Nuruzzaman, also known locally as Montu Uncle, said. "And then there was Akota, my business."
Halal meat refers to meat that is permissible for Muslims to consume. In order for meat to be considered halal, the permitted animal must be sacrificed according to Islamic requirements. According to Zabihah, an online guide dedicated to collecting information on the world's halal meat distributors and restaurants, there are 218 halal meat shops in New York City. More than half of these stores are located in Queens.
Back in 1997, however, only a fraction of these stores existed. "There were not a lot of Bangladeshi stores, and I was thinking, at least we can give the community halal meat," the Mymensingh native said. "I have a lot of non-Muslim customers, as well. People know what halal is."
Montu Uncle gives credit to his wife, Mosammat Jahan, for opening up shop. "I asked her, 'What do you want to do? Should we purchase a home or should we open a business?' She said, 'Let's open a business. That way we can make some money from that and then purchase a home.'"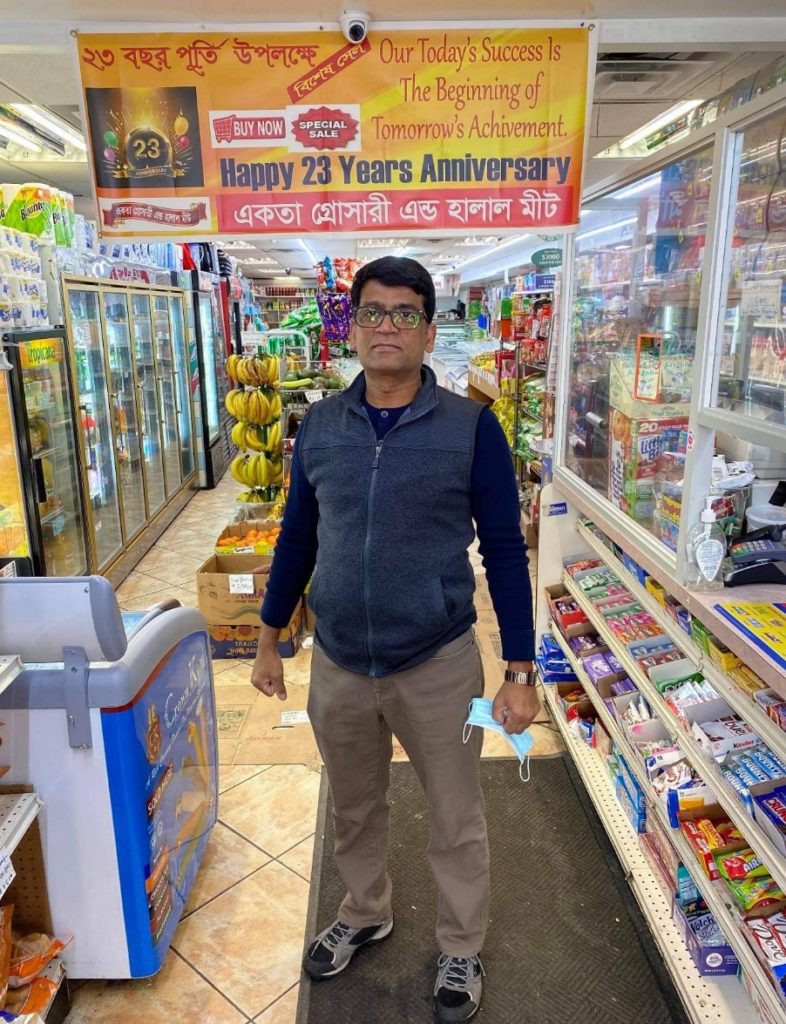 The husband-wife team worked side-by-side, without taking a day off for the first three years. "It was very hard in the beginning. No matter what you start, it's hard," he said. Montu Uncle began working with vendors and supplying halal meat to restaurants in both Manhattan and Queens.
As the Bangladeshi population grew in Queens and other boroughs, so did the opportunities to expand business. Montu Uncle placed advertisements in the local Bangladeshi newspapers and continued to grow his customer base. When Akota Grocery & Halal Meat began placing advertisements, other Bangladeshi halal meat shops followed suit.
An Essential Service During the Pandemic

With the spread of COVID-19, many small businesses, including halal meat shops, faced the brunt of the pandemic. Grocery stores were categorized as essential and proved to be an integral part of communities as the city shut down. "Due to COVID-19, the way it spread, we were forced to close shop for about 10 days," Montu Uncle continued. "But then we had to open back up because our neighbors began calling me—someone needed formula for their baby. So, I opened the shop back up."

Bangladeshi grocery shops like Montu Uncle's store offer more than just desi spices and fresh produce. They provide Bangladeshis, and specifically Bangladeshi Muslims, access to an integral part of their cuisine: halal meat. As Akota Grocery & Halal Meat celebrates 24 years of business this year, Montu Uncle offers some words of wisdom to new Bangladeshi business owners and entrepreneurs.

"Everything is possible in this country. As far as businesses go, do not focus on the money. Focus on your service, customer satisfaction, and serving your community."